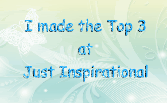 To
Crafty Individuals is an exciting venture into the creative world of arts and crafts for business partners Jean Hardy and Malcolm Noble, who both come from an arts-based background.
Jean Hardy is a practising artist with a BA (Hons) in Fine Art, as well as a teaching certificate.
Malcolm Noble is a professional commercial photographer who has been operating in the North East for the last 20 years.
I went with a quite simple design. The stamp I used is just so beautiful I didn't want to over power it. It's not my usual style but enjoyed the challenge of making a card using the stamp. Reckon it would make a nice Thinking of you card:)
Image - Crafty Individuals
Papers - Echo Park Summer Days (thanks Laurie!)
Embellishments - Narrow white ribbon from CRAFTY RIBBONS, script embossing folder, faux stitching
Medium - coloured with promarkers
I would like to enter this into
Karens Doodles - stitch it up
Scrapbook Sisters - squares (square card and image)
Just Inspirational - photo inspiration (used yellows and greens)
Stampin Sisters in Christ - something you are afraid off (the stamp and the colours)